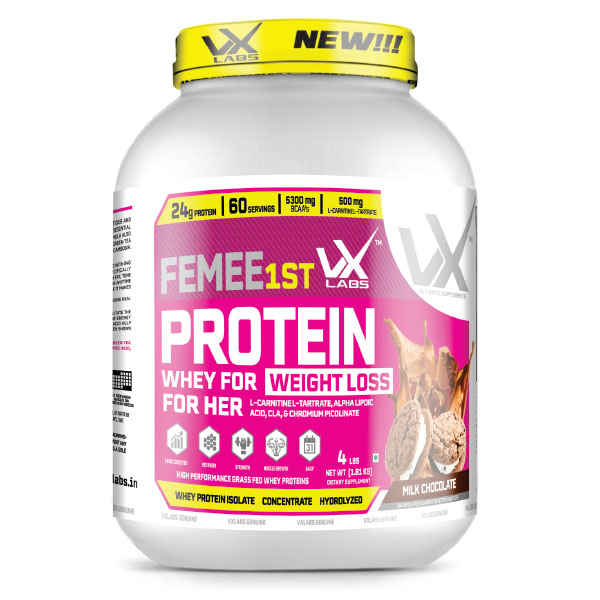 FEMEE 1st Whey Protein provides a 24g blend of whey peptides and isolates for digestibility, easy mixing and high levels of essential branched chain Amino acids (BCAAs). The new 7-in-1 protein formula also delivers CLA, MCTS, Alpha Lipoic Acid, L-Carnitine L-Tartrate, Green Tea Extract, Coffee Bean extract, Chromium Picolinate and Garcinia Cambogia for weight management!
FEMEE 1st whey protein is a fast acting lean whey protein packed with 24g of protein per serving. The ideal protein source that's specifically designed for women looking to increase their metabolism, burn fat, tone up and increase energy. Protein to be taken after a workout, or anytime of the day. With its low carb, minimal fat and low sugar profile it makes it an ideal choice.
A nutrition shake for women that satisfies hunger while providing real results. L-Carnitine is an amino acid that has been shown to help facilitate the transfer of fatty acids into the mitochondria of cells for energy production. Not only does this naturally occurring amino acid help promote muscle growth, fat loss and energy, but it has also been shown to reduce muscle fatigue.
Whey for weight loss for her L-Carnitine l-Tartrate, Green Tea extract, Coffee Bean extract, Garcinia Cambogia, Alpha Lipoic Acid, CLA (Conjugated Linoleic Acid) & Chromium Picolinate.
Flavors Available
Milk Chocolate
Strawberry Milkshake
Nutrition Facts & Ingredients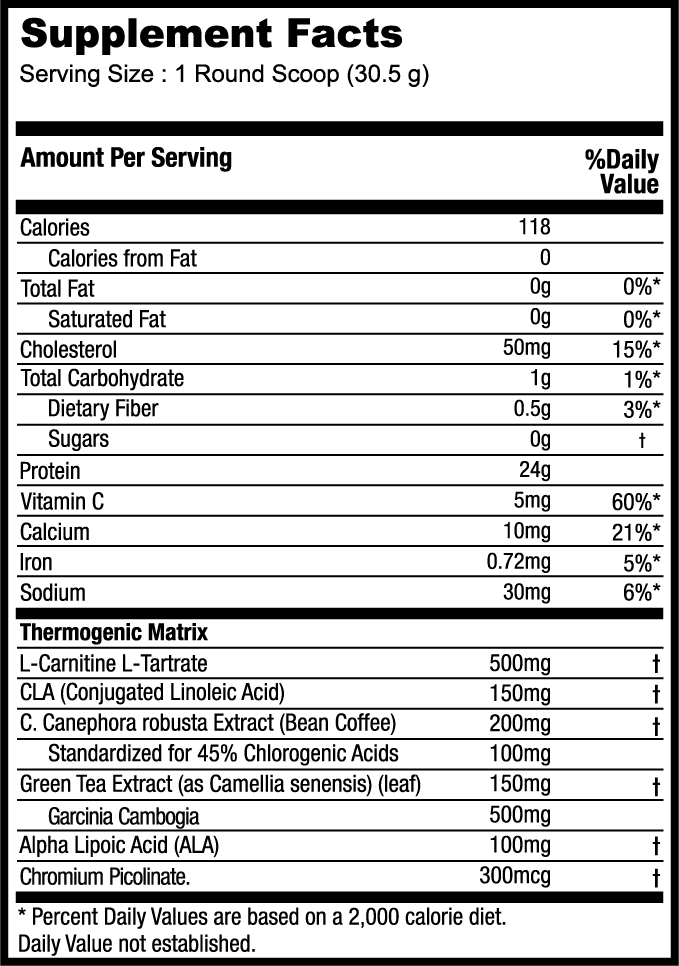 Ingredients
Whey Protein Concentrates, Whey Protein Isolate, Whey Protein Hydrolysate (Fast Absorption), Alpha Lipoic Acid, CLA, L-Carnitine L-Tartrate, Chromium Picolinate, Garcinia Cambogia, Green Tea Extract, Coffee Bean Extract, Ascorbic Acid, Vitamin B12, L-Glutamine, L-Leucine, Taurine, Lysine, Cocoa Powder (For Chocolate Variantonly), Natural and Artificial Flavors, Xanthan Gum, Acesulfame Potassium, Sucralose, Bromelain (Digestive Enzyme).